An annuity is a contract between you and an insurance company that requires the insurer to make payments to you, either immediately or in the future. You buy an annuity by making either a single payment or a series of payments. Similarly, your payout may come either as one lump-sum payment or as a series of payments over time.
Periodic payments for a specific amount of time.This may be for the rest of your life, or the life of your spouse or another person.
Death benefits. If you die before you start receiving payments, the person you name as your beneficiary receives a specific payment.
Tax-deferred growth. You pay no taxes on the income and investment gains from your annuity until you withdraw the money.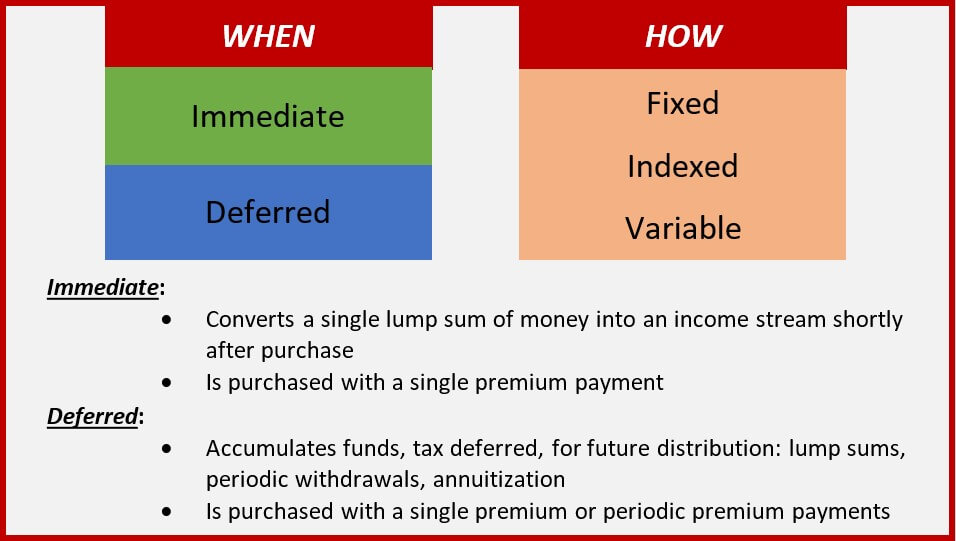 Fixed Annuity. An insurance product that promises a minimum rate of interest while your account is growing. The insurance company also guarantees that the periodic payment will be for a set amount for a fixed period of time, such as 20 years, or an indefinite period, such as your lifetime.
Indexed Annuity. This insurance product combines features of securities and insurance products. The insurance company credits you with a return that is based on a stock market index, such as the Standard & Poor's 500 Index.
While Fixed Annuities are rather straight forward, an indexed Annuity is a bit more complex. An indexed Annuity generally promises to provide returns linked to the performance of a market index. There are two phases to an annuity contract – the accumulation (savings) phase and the annuity (payout) phase.
During the accumulation phase, you make either a lump sum payment or a series of payments to the insurance company. You can allocate these payments to one or more indexed investment options. The insurance company credits your account with a return that is based on the indexed investment option's return.
During the annuity phase, the insurance company makes periodic payments to you. Or you can choose to receive your contract value in one lump sum.
Different indexed annuities use different indexing methods. Indexing methods determine how the change in the variable annuity's return is determined at the end of each time-period. This return is then applied to your indexed annuity.
Some common indexing methods include:
Point-to-point. This method compares the index level at two points in time, such as the beginning and ending dates of the time-period.
Averaging. This method compares an average of the index levels at periodic intervals during the time period to the index level at the beginning of the time-period.
We take suitability seriously. We want what is best for you, not for us. We are committed to subscribing to and following the model below. (abbreviated description)
To satisfy the Best Interest obligation under model no. 275, an Agent must satisfy the following 4 obligations:
Care: Making recommendations that will exercise reasonable diligence, care, and skill.
Disclosure: Disclose in writing the scope and terms of the relationship with the client and the agent's role in the transaction.
Conflict: identify and avoid or reasonably manage and disclose material conflicts of interest.
Documentation: Make a written record of any recommendation and the basis for the recommendation.
SILAC Insurance Company introduces the:
Click on the link above and you will find tons of information and details about their Annuity products and their clients, just like you; and please do not hesitate to contact us for a personalized presentation.
Early Investing - Case Study
Just as we did with your Medicare needs and your other Insurance needs, let us help you secure your savings and investments with the same diligence and prudence as we did before.
- Lydia, Richard, and Richard II
Contact us here!
We can discuss your unique personal needs.
A LICENSED SALES REPRESENTATIVE WILL CONTACT YOU ABOUT THE INSURANCE PRODUCTS YOU SELECTED - THANK YOU