An annuity is a contract between you and an insurance company that requires the insurer to make payments to you, either immediately or in the future. You buy an annuity by making either a single payment or a series of payments. Similarly, your payout may come either as one lump-sum payment or as a series of payments over time.
Periodic payments for a specific amount of time.This may be for the rest of your life, or the life of your spouse or another person.
Death benefits. If you die before you start receiving payments, the person you name as your beneficiary receives a specific payment.
Tax-deferred growth. You pay no taxes on the income and investment gains from your annuity until you withdraw the money.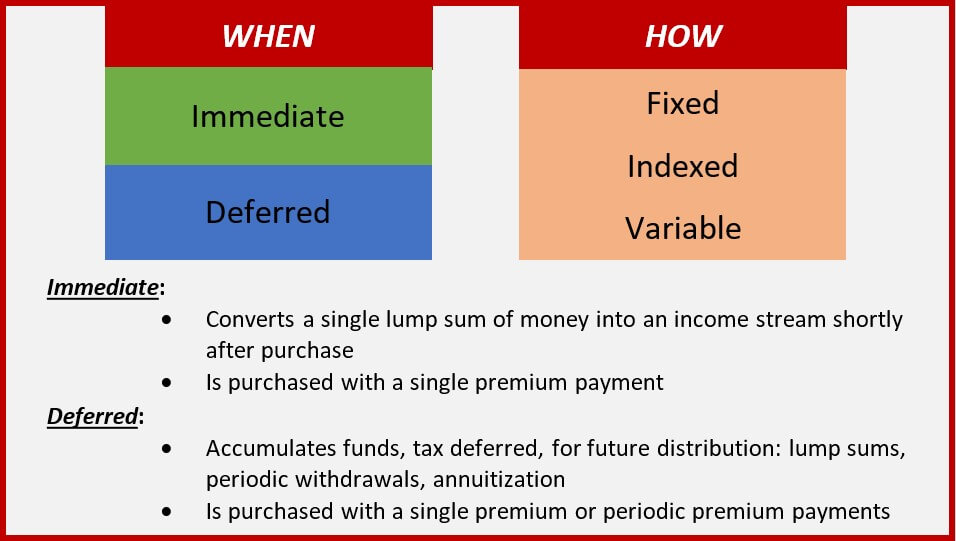 Fixed Annuity. An insurance product that promises a minimum rate of interest while your account is growing. The insurance company also guarantees that the periodic payment will be for a set amount for a fixed period of time, such as 20 years, or an indefinite period, such as your lifetime.
Indexed Annuity. This insurance product combines features of securities and insurance products. The insurance company credits you with a return that is based on a stock market index, such as the Standard & Poor's 500 Index.
While Fixed Annuities are rather straight forward, an indexed Annuity is a bit more complex. An indexed Annuity generally promises to provide returns linked to the performance of a market index. There are two phases to an annuity contract – the accumulation (savings) phase and the annuity (payout) phase.
During the accumulation phase, you make either a lump sum payment or a series of payments to the insurance company. You can allocate these payments to one or more indexed investment options. The insurance company credits your account with a return that is based on the indexed investment option's return.
During the annuity phase, the insurance company makes periodic payments to you. Or you can choose to receive your contract value in one lump sum.
Different indexed annuities use different indexing methods. Indexing methods determine how the change in the variable annuity's return is determined at the end of each time-period. This return is then applied to your indexed annuity.
Some common indexing methods include:
Point-to-point. This method compares the index level at two points in time, such as the beginning and ending dates of the time-period.
Averaging. This method compares an average of the index levels at periodic intervals during the time period to the index level at the beginning of the time-period.
We take suitability seriously. We want what is best for you, not for us. We are committed to subscribing to and following the model below. (abbreviated description)
To satisfy the Best Interest obligation under model no. 275, an Agent must satisfy the following 4 obligations:
Care: Making recommendations that will exercise reasonable diligence, care, and skill.
Disclosure: Disclose in writing the scope and terms of the relationship with the client and the agent's role in the transaction.
Conflict: identify and avoid or reasonably manage and disclose material conflicts of interest.
Documentation: Make a written record of any recommendation and the basis for the recommendation.
SILAC Insurance Company introduces the:
Click on the link above and you will find tons of information and details about their Annuity products and their clients, just like you; and please do not hesitate to contact us for a personalized presentation.
Just as we did with your Medicare needs and your other Insurance needs, let us help you secure your savings and investments with the same diligence and prudence as we did before.
- Lydia, Richard, and Richard II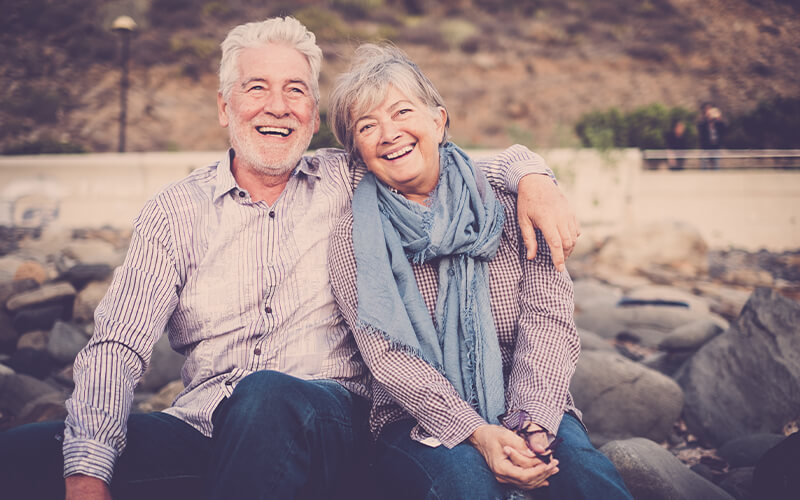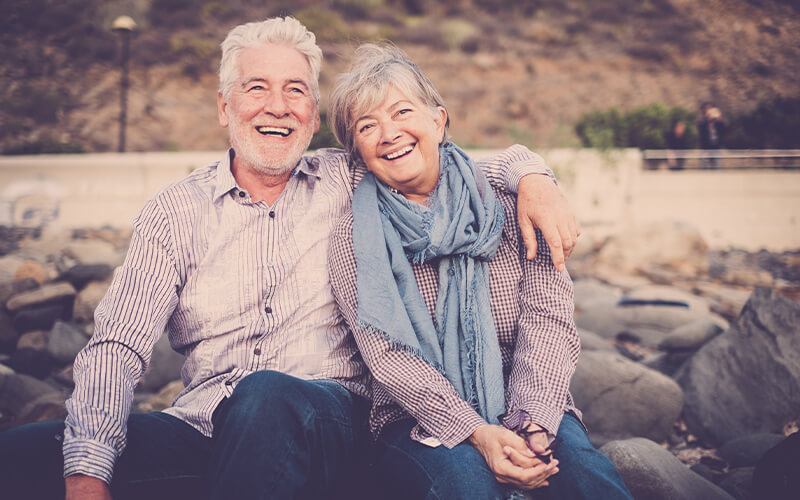 Client satisfaction is our #1 Priority
My husband and I met Richard and Lydia when I retired at one of their Medicare seminars. I needed clarification of the plans they discussed so we scheduled an in home visit. Richard was very professional and informative. Subsequently, after we enrolled in Medicare I have communicated with both he and Lydia regarding other questions. I find both of them to be personable, patient, willing to answer any questions we had and they always make sure that we understood the plan. I can call them anytime and I know that they will return my call (if not available) and they always make sure that answer(s) they give is satisfactory to us.
- Myrtle
I can't say enough about Richard Zappasodi and the outstanding care and time he took with me when choosing the appropriate Medicare plans to fit my needs, both medically and financial. I contacted several agents when looking for a representative and fortunately, I picked Richard. I had no clue about Medicare or what any of this meant. He patiently explained everything in a way I understood and was there for me through the entire process. Based on his level of service I felt like I was his most important customer. No question was too small or technical need to minor. He ALWAYS got right back to me and was patient beyond belief. I know quality service and I assure you that is exactly what Richard Zappasodi will provide to you.
- Ellen
Richard A. and Lydia Zappasodi have been our health care specialists for the past eleven (11) years and we could not have a better team representing us. Whenever we have a question, an issue or in need of guidance they are extremely helpful. We have recommended this team to family, friends or whomever is in need of health insurance guidance with both Sue and I highly suggesting they speak to The ZAPPASODI TEAM!!!
- James K. and Susan T.
Dealing with any kind of insurance is always a stressful time. It takes special agents such as Lydia and Richard to make the process seem simple. I am always confident that whenever I request information from them I know it is credible. Lydia and Richard Z are real professionals and I highly recommend them.
- Tony
Ms. Lydia Zappasodi is extremely knowledgeable with a delightful personality. She explains intricacies per my health coverage in an understandable and caring way. My wife and I always look forward to her annual home visits. Moreover, in my 32 years of professional work, she ranks at the zenith for both her acumen and personal touch with her clients.
- Richard
We had just become of age for medicare and were fortunate to find Lydia Zappasodi. Lydia came to our home and explained the options for medicare coverage and supplemental plans. In one appointment, she called Social Security for our medicare enrollment and United Healthcare for the Supplemental Plan F. We have retained our same coverage for a number of years and have been very satisfied. I have a younger brother who was also trying to determine his medicare options and Lydia was able to put him in touch with one of her counterparts in another state.
We have had occasion to call Lydia once or twice over the years with a question about our coverage and she has been very responsive. We strongly recommend Lydia.
- John
I have been so fortunate to have Lydia patiently explain Medicare and United Health Care to me. She made the transition to retirement painless. Thanks for all of your help Lydia.
- Kenyan
My husband and I were fortunate enough to work with both Richard and Lydia to help us through the process of registering for Medicare and choosing supplemental plans. They were patient and thorough and helped us select plans that were the best choice for both of us. What really impressed us was that we called them several times with questions after we were enrolled, and they always responded in a timely manner. It was such a great experience that I referred my best friend to them. They are so well versed and knowledgeable about this daunting process.
- Randy and Nancy C.
Contact us here!
We can discuss your unique personal needs.
A LICENSED SALES REPRESENTATIVE WILL CONTACT YOU ABOUT THE INSURANCE PRODUCTS YOU SELECTED - THANK YOU